How to Care for Linen Shirts & Mens Jackets
Looks / Style Advice
October 04 2018
Linen is a plant fibre from the Linseed plant or Flax. Though, not the kind of flax Tui flock to. The northern hemisphere kind of Flax: Linum usitatissium.
It's a plant with an incredible history of usage as a fabric dating back 36,000 years to a specimen of cloth found in a cave in Georgia. Ancient Mesopotamians were the first to domesticate the plant and produced the first proper linen cloth, mainly worn by wealthy members of society. Even Egyptian pharaoh Ramses II wore linen, in life and...after life.
If it's fit for a king, we've got you covered. But we want your wares to last through the ages, and here's how to do it.
Nice-to-Knows

- Linen has powerful tensile strength, but does not enjoy abrasion.
- It has a tendency to shrink slightly after washing (if not pre-shrunk already).
- Linen dries incredibly fast so it's great for travel to hot, wet climates.
- The cloth is incredibly light and breathable, ideal for summertime.
- It's imperfect, the variances in consistency in the woven cloth are referred to as 'slubs'.
- The tighter the fit, the more wrinkles.
- Linen softens with age.
- Linen may lighten with age.
Washing
Follow instructions on the care label first and foremost. But, generally linen must be washed in a cold setting on a delicate cycle and gentle detergent. Separate coloured linen as some new linen may bleed. Try not to crowd your washing machine, your linen (and everything else) will come out with fewer wrinkles.
Stains
Never bleach linen, even if it's white. If it's stained badly, ideally take it to the professionals but soda water or many household stain removers can also do the trick.
Drying
One of linen's finest qualities is being fast drying. Given how quickly it will dry, and its tendency to shrink when exposed to heat, it's best to air dry linen. Plus, you'll likely be wearing linen during summer months, which means that it will dry extra fast thanks to the summer heat. You can tumble dry on low for five minutes to help loosen the wrinkles. Ideally, hang your shirts on a jacket hanger or a padded hanger or place it flat across a drying rack. Thin hangers will warp your heavy wet garments.
Do not wring linen to remove excess water. It'll ruin it.

Continues below...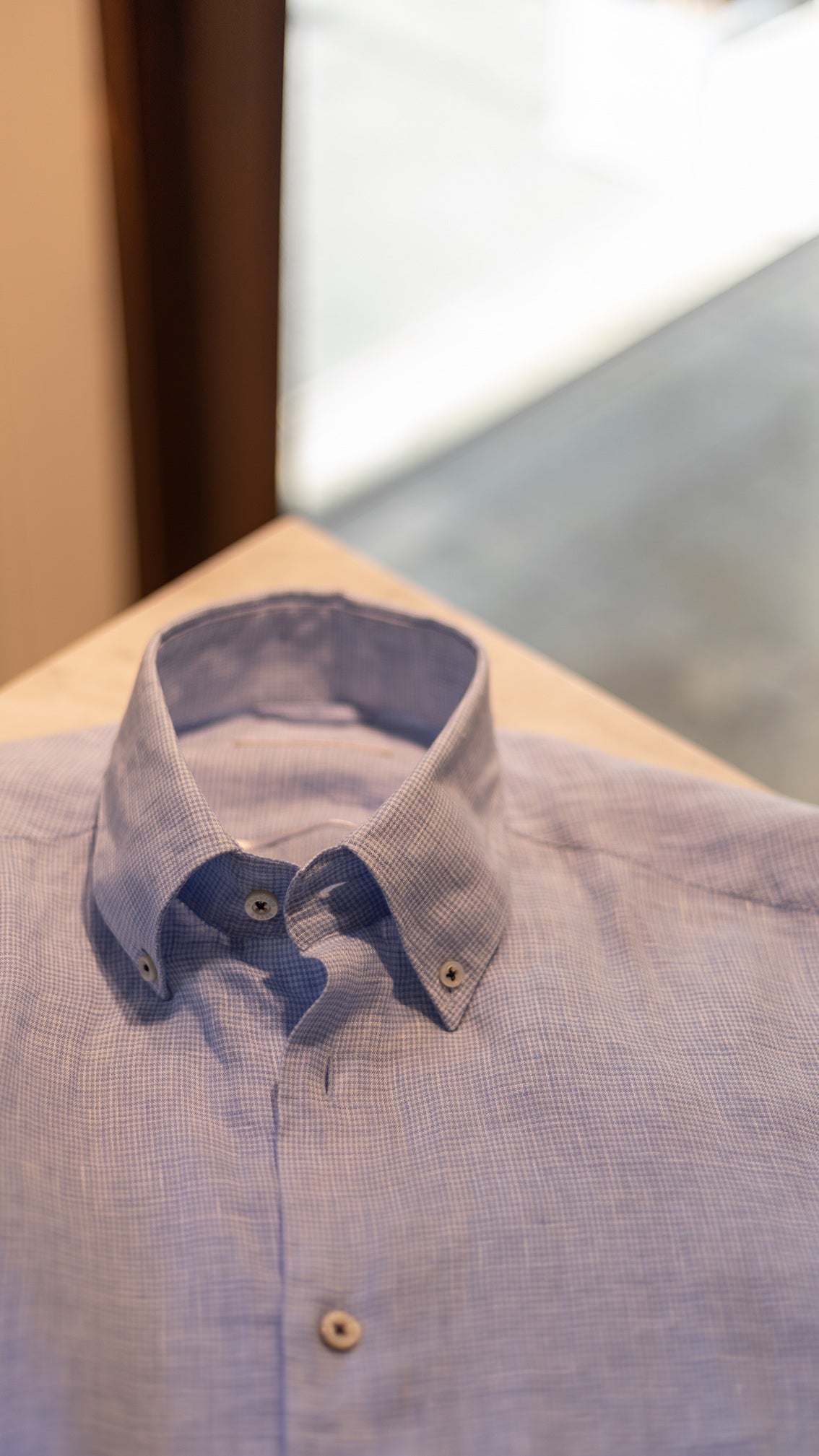 The Wrong Wrinkles to Worry About

5-10 years ago we were living in a market of mass-manufactured machine perfection. Brands were producing everything the same with even textures, wrinkle-free cloths, little personalisation or notes of human interaction and imperfection. It's tense. It's characterless. It's... a shiny botoxed brow. We're very pleased at the resurgence of linen as a wardrobe staple and NZ men are learning how to work it into their outfits.
It's for when you want to look tidy, but not uptight-y. Linen has a natural relaxed look to it so use it to your advantage to de-formalise your outfit. We believe the rumples, wrinkles and slubs are an inherent part of the beauty of linen and a real reason to wear it over other cloths. It drapes and behaves differently to cotton. You need to iron cotton shirts but the choice of whether or not to iron your linen clothes is exactly that — a choice. It depends on how you dried your individual garment and how you plan to wear it. It'll look crisper in the office but ironing might not be mandatory when you're travelling or wearing with denim in summertime.
Remove your linen jacket while sitting or driving. Hang it up on a jacket hanger instead.
To lessen wrinkles in linen pants while sitting, lift your pants up from the knees as you sit down. This will minimize fabric stretch, sag and subsequent wrinkles.
On that note..
Ironing
For the best results, press the shirt straight out of the wash while it's still damp.
Use a medium- to high-heat setting on the iron and press only until the wrinkles are removed — you don't need to iron until the fabric is completely dry, as it will dry quickly on its own. Bright and dark coloured linen clothes should be ironed on the backside of the garment to avoid shiny patches or fading.
If you want your linen to stay pressed-looking for the duration of wear, you can use spray starch for a crisper look, and to ensure that whisker-points like the knees, elbows and crotch don't become impossibly creased as the day wears on.
Best of all; maintain the natural rumpled look of linen, but remove the heavy creases by using water, spray or dampen the wrinkles and lay flat to dry.