Spinning Yarns: Taylor Jarden
Looks / Blog
October 17 2021
How long have you been with us at Working Style?
Coming up to my 3 year anniversary next month.
One quote you live by?

My year nine social studies teacher engrained this into the class and it sort of stuck - "If you're 5 minutes early you're on time, if you're on time, you're late."

We heard you had a pup at home, what type of dog is he and can we visit him at the Working style Wellington store?
My partner Tessa and I adopted Pepper 1 year ago. He's a poodle cross with... we aren't sure. Something fast, let him loose with a tennis ball and it's game over. I don't think he could cut it as a shop pup just yet.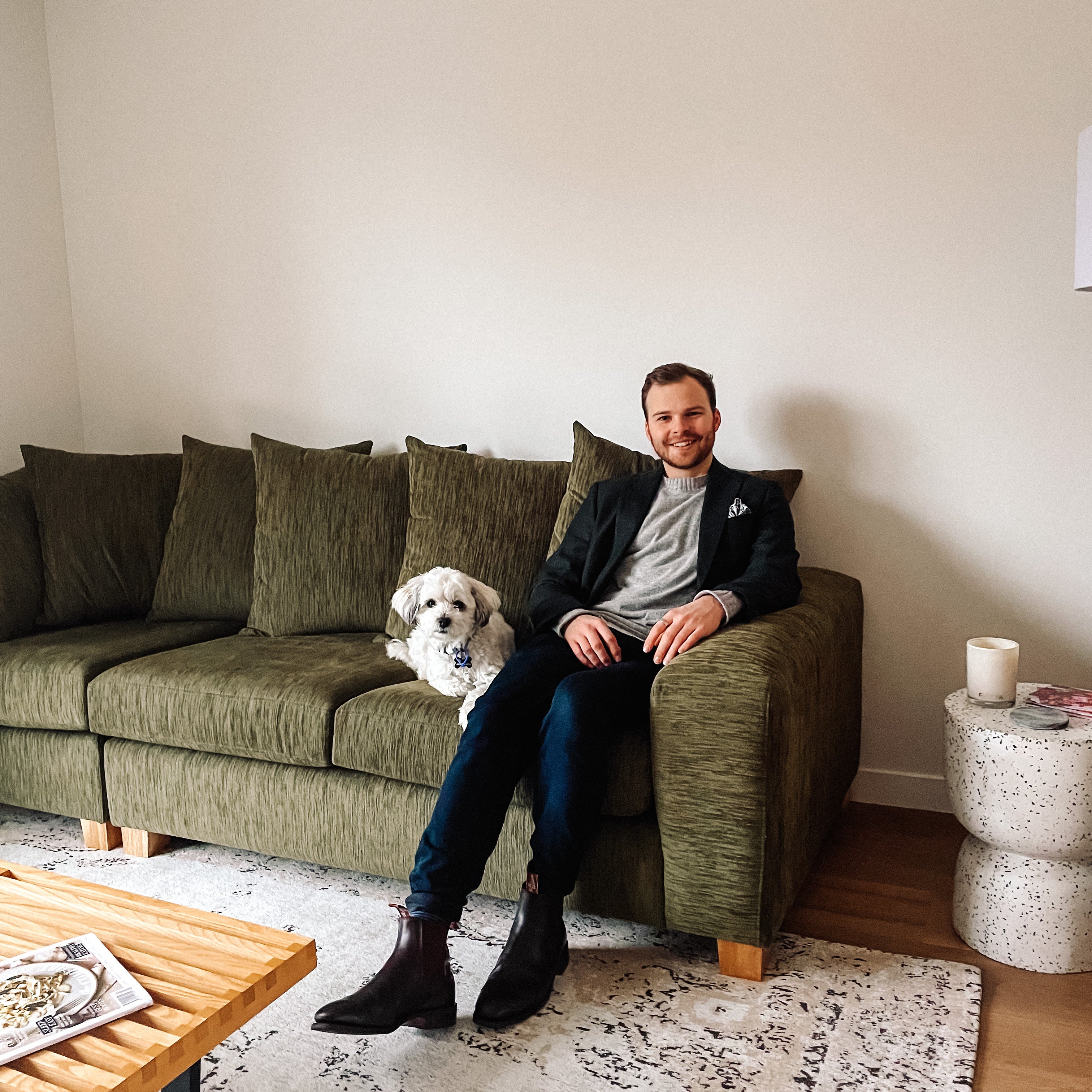 As a vegetarian, what's your favourite meal to make at home?
Anything with Tofu really hits the spot. It is a really versatile option, soaks up any marinade flavour and goes with pretty much everything. If you hate it, you haven't had it from Chow.
What is one piece of tailoring you think every guy should have in their wardrobe?

You just can't go past a navy suit, cut in a medium weight cloth with blazer pockets and side adjusters on the trouser it, makes it the perfect trifecta wardrobe staple. It's all in the fit that makes the garment look and feel expensive. Don't second guess taking up the sleeve 1cm or slimming down the trouser, you won't regret it.
What are you reading/ listening/ watching at the moment?

Reading
Antony Kiedis' Autobiography, Scar Tissue.
Listening
Tash Sultana, Blackbird
Watching
The Office, U.S. version.
What do you like to get up to outside of work?
On a nice day I like to get out for a game of tennis and am trying my hand at golf, but need to fix my terrible slice. There are plenty of walks and trails in Wellington so I usually get out for some fresh air with the dog while listening to a podcast.
If an AB's test in on you will find me glued to the T.V screen with a Hazy Pale Ale in hand.
As we move into summer, what is your go-to piece of tailoring to keep you cool?
A white linen shirt, embrace the crease, If it doesn't crease it ain't linen. Linen is cool to wear and has amazing breathability. If you're after something a little more adventurous our new drop of printed linen shirts are second to none. Fun colours and prints which are easy to pair with tonal chinos or shorts and a suede loafer or sneaker.